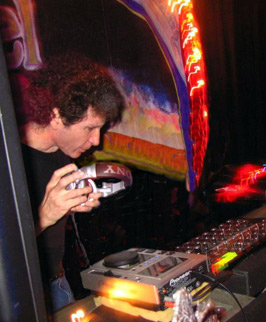 My first DJ gig was in 1970, at a club in Provincetown, MA. There was no mixer, no headphones, and there were no SL1200's! I mixed two turntables together using the balance knob on a stereo receiver hard-wired for mono operation, with a turntable wired into each of the left and right phono inputs! We had a great time that summer, and I discovered the magic of programming dance music.
The 80's
After a long absence from the club scene, I discovered the new underground dance music scene in a club in Sydney, Australia in 1982. I was blown away by the hi-energy eurodance sound, and a year later I was resident DJ spinning four nights a week at a large club in the midwest US.
The present
Four years of ripping and restoring 1500 vinyl tracks, a pair of Pioneer CDJ-800's, a mixer, and 300 CDs later, I've returned, spinning not only the great 80's underground tracks, but also great vocal tracks from the 90's right up to the present. Live-remixing, thoughtful programming, and as always, I take requests!
My mixing style
I mix in the grandiose spirit of The Saint (NYC - 80's), with more live-remixing, and more and somewhat faster set changes. I like to push my peak sets to the hilt, segueing into the next song at the first breakdown, if I can wait that long.