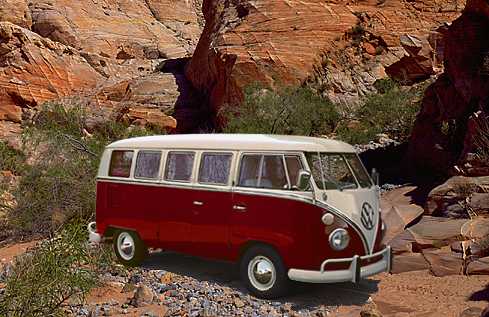 (This page describes my 67 deluxe microbus - it was intended originally as a possible ad for selling it, but is presented for information only at this point)


I bought this 1967 deluxe walk-through bus on 26 May,1973; I am the third owner, the middle owner never drove the bus.
---
Features and facts about the restoration:

---
I had the major restoration done at Haselrig Renovations, in West LA, CA in a 19 month period, 1994-95. Total restoration cost - $22,000.

During that time, I spent several days a week, participating in the restoration work, mostly under the bus, taking care of details like exposing rusted areas for the welding man, successfully redesigning the heat- distribution system, and POR-15 treating both the inside and outside of every part of the frame, floor, and channels, inside and out, after welding repairs were made.

Entire underchassis has been POR-15 treated, except small areas around the front pedals and emergency brake handle.

Wheel wells were stripped bare, rusty areas replaced, then sealed with 3M coatings and seam-sealer, then POR-15 coated.

Front nose skin completely replaced, using donor bus part; lower front lips and channel are from Das Bulli Haus. Inner surface of skin and inside surfaces of front lips and channel POR- 15 treated after welding.

Bottoms of each windshield frame were rebuilt using 1/16" thick steel angle iron, wrapped around lower corners - solder used on corners. POR-15 used after welding.

POR-15 sprayed up thru the interiors of left, right, and center front posts, and up thru the interiors of both side-door body posts.

A layer of POR-15 was brushed around all window openings - front, sides, and rear, between two layers of epoxy-primer, before painting.

Both body rear corners were replaced, with POR-15 sprayed on inner surfaces of body and battery floors.

Bumpers were renovated, then stripped bare, then primed with 3-part epoxy primer, then topcoated. Bumper blade inside surfaces, vertical pieces and pipes were POR-15 coated on inner surfaces, then primed and topcoated.

Both side rocker panels were replaced, then POR-15 treated on inner surfaces and channels.

Cargo bay floor was sanded and POR-15 sprayed.

Inner channels, seams, and surfaces of all doors and hatches were POR-15 coated.

All window frames were sandblasted and POR-15 coated on inner and outer channels, before priming and topcoating.

Both front spindles were replaced along with link pins.

Transmission and reduction boxes were rebuilt in 1999 by Rick Long Enterprises, with proprietary components for strength and reliability. Gear ratios are 'Freeway Flyer". All bearings are German FAG or SKF. No cheap low-quality parts. Rebuild cost total = $2300.

New transmission mounts - German/Brasilian.

New rubber everywhere.

Paints are Acrylic Urethane, matched to original formulas - titian red, beige/grey. Zymol wax hand-applied exclusively.

Aluminum belt trim was hand-polished and coated with Crystal-Clear Topcoat from POR-15.

Front seats reupholstered, frames repaired, driver's seat back is adjustable.

All five wheel rims, shifter rod, and pedal splashpan were powder-coated.

Walk-thru floor-section rubber mat, and seat-pedestal side-rubber mats replaced. Grey padded floor mats surrounding seats were renovated and reinstalled. New front floor mat.

New 67-only master cylinder installed.

Heat distribution system replaced with continuous flexible silicone ducting, with tight-fitting POR-15-treated 1/2" thick, closed-cell neoprene-foam sleeving over entire length of ducting. This bus has heat.

Wiring harness replaced with mil-spec, aerospace-quality Teflon-insulated high-gauge stranded wiring, front to rear, spliced into original good-condition dashboard wiring. Starter/ignition runs are 1/4"-gauge stranded Teflon coated wiring inside harness. Entire rear end completely rewired using the harness wiring.

Oil pressure and oil temperature gauges custom mounted under dash in separate bracket - no damage to dashboard. Gauges wired through the new harness using included extra wires.

Extra front right-side fusebox organizes radio, gauges, clock, and other accessory wiring - no interference with original existing bus-wiring or bus fusebox.

Included are replacement interior door panels of the proper material and thickness, already POR-15 treated, not installed, and waiting for the day when someone reproduces the THIN vinyl in Platinum color. The new kick panels are treated and installed, but are also awaiting new Platinum vinyl. The original salt and pepper middle material pieces and chrome strips for the door panels are in storage.

Clifford Concept-40 built-in alarm system, with two remotes. Radar proximity-sensor guards entire front area of bus from people loitering within inches of door-windows or windshields - sends quiet warning beeps. Alarm also has remote-operated ignition-disconnect feature, which removes power to the ignition module at ANY time.

All headlights, taillights, and turn-signal lights have been mounted using special security screws to deter theft. Additionally, the starter terminals have been made inaccessable by a plate fastened with the same kind of security screw. Two special matching screwdrivers are onboard in the tool cabinet. The front and rear chrome emblems have been mounted using special locking hardware, and are not removable from the outside, but may be unfastened from within.


---
General points of information:

---

Interior of cargo bay is NOT stock. Light-weight wooden bed and flooring/shelving/table/storage areas installed in 1974, for living and traveling. Entire interior furnishings and flooring were removed during restoration, renovated during restoration and reinstalled in '95. Stock cargo bay can be achieved by removing furnishings (about 3 hours work - all installed with screws); necessary restoration requires new headliner, as well as same material reinstalled throughout interior above beltline. Original interior panels on sides and doors are there, but decorative coverings would need to be removed.


There are hidden storage areas containing all necessary tools for doing all repair work, as well as more spare parts for this bus than a well-stocked parts store (I have been collecting parts since 1973). There are literally thousands of parts and tools, all in orderly fashion, stored unseen, within the bus, including a small 1.5 ton floor jack, 2 good jackstands, a professional timing light, compression gauge, single-person brake- bleeder kit, grease gun, easy-loading tranny oil pump, and VW-specific special tools. There is a Clymer manual, a 1971 original Idiots manual, a bag of notes and other paperwork onboard, a 5-lb Kidde fire extinguisher, at least 3 quarts of Mobil One 10-30, grease, solvents, and hand cleaner. The bus is self- sufficient.

Additionally, there are three cartons of extra, spare restoration parts and repair parts, in storage at a friend's warehouse, along with the Bentley shop manual, and a full copy of the original VW Parts Manual.

The mounted spare tire is inside the bus, out of the way.

The fuel tank gas line is double-walled neoprene, and goes to the engine compartment through a new hole in the firewall to the left of the engine, avoiding stock fuel-line engine-fire dangers. Additionally, there is an inline manual fuel cutoff valve before the electronic fuel pump, which is a Facet #574, which runs a long time with no maintenance.

Electronic ignition is a Crane XR-700 optically-triggered module, no points, no adjustment necessary, which has been running for over 10 years - no failures. The module is mounted hidden within the rear of the cargo bay to deter theft, and may be deactivated by the alarm's remotes at any time, as well as manually when parked.

Engine is a dual-port, 1776, with all tin and cooling flaps, with dog-house fan housing and standard generator. Cooling flaps inside fan housing have position- indicator arrow installed outside of housing. There is an inline oil cooler and a Berg full-flow oil filter unit, using Teflon aircraft quality stainless steel flex lines and mounted RVEECO-style under the engine - no failures on any items; cooler installed '74, filter installed '91. Engine had new top end work (heads, cylinders, pistons) in July '02, and runs excellent. Bottom end had 45,000 miles on it when the work was done. Ran strong and even until the time of repair.

There is a LIFETIME battery guarantee for this vehicle via Firestone/JC Penney. If the battery fails, it will be replaced free forever - started in 1981, have exercised several replacements with no hassles ever; all replaced batteries are high-capacity sealed units, no cheapos. Original receipt is in bus. You walk in with faulty battery and receipt, you get new one immediately, forever.

This bus is a long-term proven road vehicle, requiring only minimal regular maintenance, and I have traveled over 225,000 miles in it over the last 30 years, many times back and forth across the US. . Handles well, quiet, and reliable. I have been the mechanic-in-charge since 1973, and have never skimped on anything having to do with this bus.

If it became necessary to sell this bus, I would prefer selling it to someone who would continue its long history of service and take care of it properly without lowering or otherwise altering the essential stock look, and who would preferably own it for a long time. Someone who appreciated the practicality and aesthetics of the existing interior might leave it as is for traveling and day to day driving, as the design has been time-proven over decades.